Axes and Arrows to open in Cd'A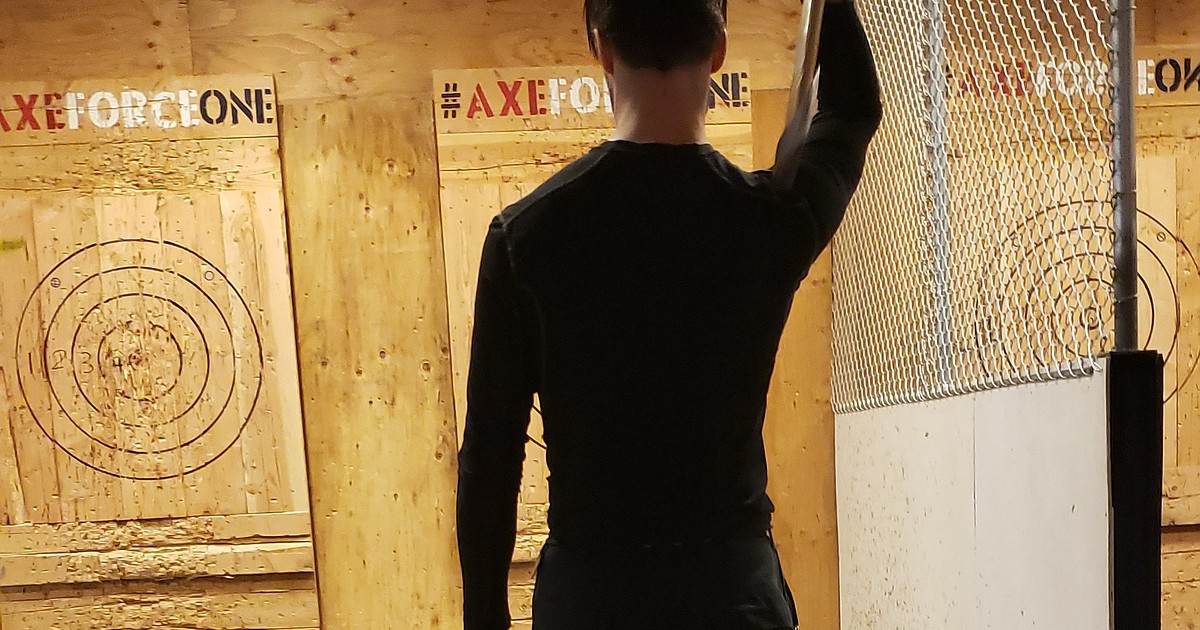 Offering a new kind of fun, Ax Force One and V-Sports Arrow Tag combine into Axes and Arrows at 1207 N. Fourth St. (next to Ace Hardware).
Leaving Silver Lake Mall, Ax Force One is an ax throwing activity. Owners Colton and Kearsey Hoffman also have a V-Sports Arena on 115 S. Fourth where the arrow beacon or combat archery has each arrow fitted with a safety mechanism and a thick layer of foam. .
The grand opening will be Saturday from 2 p.m. to 6 p.m. with food, live music, Spiderman, free ax throws, arrows and raffles with donations destined for Juvenile Justice Outreach.
Regular hours will be from noon to 9 p.m. on Fridays, Saturdays and Sundays. The place can be used for gatherings. Call 208-763-8628. Visit www.teamvsports.com.
Jitterz Espresso opens
in Ramsey-Prairie
With its ninth local location, Jitterz Espresso opened this week at the southwest corner of Ramsey Road and Prairie Avenue.
With an extensive menu of coffees, teas, protein shakes, fast food boxes, soul food and kids' options, hours are 4.30 a.m. to 7 p.m. on weekdays and 6 a.m. to 7 p.m. on Saturdays and Sundays.
Manager Amber Bariel and assistant Nikkie Johnson allow on-call orders (via www.jitterzespresso.shop) and offer daily specials, with Happy Hour from 2pm to closing.
UGM opens a new
Thrift store Thursday
While looking for employees and volunteers, the UGM Thrift Store at 7761 Government Way in Hayden opens at 9 a.m. on Thursday. Due to staff shortages, regular hours will be 10 a.m. to 6 p.m. Thursday through Saturday.
Donations should be made to the UGM Center for Women and Children at 196 W. Haycraft Ave. in Coeur d'Alene from 8:30 a.m. to 4:30 p.m. on weekdays. Large furniture is not accepted. Call 208-664-2338. Visit www.uniongospelmission.org.
Oxyfresh moves
downtown
Just awarded a spot on the coveted "Inc. 5,000" list for America's fastest growing private companies, Oxyfresh moves September 1 from Riverstone to suite 402 in the Parkside building at 601 E. Front Ave. downtown.
Since 1984, with outlets in 25 countries, Oxyfresh has offered non-toxic dental, household and pet products with safe and environmentally friendly ingredients combining the best of science and Mother Nature.
Hours are 7 a.m. to 4 p.m. weekdays with owners Richard and Kimmy Brooke and Mariano Tellarini, Melissa Gulbranson and Tom Lunneborgh. Call 1-800-333-7374. Visit www.oxyfresh.com.
Now the Tidbits
A Board & Brush place will be at the Prairie Mall.
The Sand Trap Indoor Golf opens Monday at 2930 Government Way.
Indoor Cafe & Tea opens Monday in Suite 3 of the Fairgrounds Center at 4055 Government Way.
Black Lodge Brewing will soon open on Third Street downtown.
Blank Slate Surfaces will soon open at 3700 Government Way.
The Rebel Junk Shoppe at 2424 N. Fourth St. will be expanded to become a street side location.
The Bruchi Quick Service Restaurant is planned for a new building north of the corner of Highway 41 and Mullan Avenue.
The new Dairy Queen at 513 W. Hayden Ave. (just west of Highway 95) will open in November.
The old Ugly Fish restaurant building has been sold to Riverstone.
Watch for the construction of the Vantage Point Brewery across from Michael D's Eatery on CdA Lake Drive.
A café will be set up in the One Lakeside building in the city center.
Pedego and Golf Island e-bikes arrive at Riverstone.
Lottie will be a children's boutique in suite 105 (off Boise Ave.) at 849 N. Fourth St.
A Sweet Lou's restaurant and a Grease Monkey car seat will be at Crossings in Athol.
Kaffee Meister Coffee Shop & Roastery will be located at 9212 Government Way in Hayden.
The Gathered Restaurant is new on Spokane Street in Post Falls.
Stogie's Cigar & Pipe Lounge arrives at Post Falls.
A Columbian Caffe Cuppa will be located at 3270 W. Prairie Ave.
Several steel storage buildings will be constructed at 3758 W. Hanley Ave. (excluding Atlas Road) for Hern Ironworks.
New upcoming locations at Silver Lake Mall include Pollen & Petal, Macadamia Coffee, Love Local, All Fired Up, Crime Scene Entertainment, American Heritage, and Workwear by BS
Killer Burger will be where Junior's barbecue was previously located in the 85 W. Prairie Mall.
Watch for something entering the ShopKo building … maybe Sportsman's & Ski Haus.
A new commercial and residential building will be constructed at Government Way and Davidson Ave.
Watch for major changes with the Burger Bunker and Bunker Bar on Spokane Street in Post Falls.
A new building for Linden Coffee Co. is under construction at 1502 N. Third.
A new gas station will be located in the northeast corner of Atlas in Seltice.
Kenworth Truck Manufacturing Company is planning a large building for 4374 W. Expo Parkway west of Post Falls.
A large storage complex and a new headquarters for Steel Structures of America are under construction next to Highway 41.
The Den will be a new tavern at 761 N. Idaho St. in Post Falls.
My Nails & Spa will be on Canfield Ave.
The CdA Corner Store adds kitchen and dining to the city center.
Takara restaurant will be in the city center.
Schmidty's Burgers will be at 1524 E. Sherman.
A 120-room boutique hotel will be located at the Outback Steakhouse location off Northwest Boulevard and I-90.
Coeur d'Alene Nissan will have a major addition to its building off Highway 95.
North Idaho Rock School will be at Appleway Plaza at 213 W. Appleway.
108 North is under construction and is connected to the downtown Moose Lounge.
The Lake Coeur d'Alene Inn is under construction on CdA Lake Drive between Mullan Avenue and Michael D's Eatery.
Aarghhh. Too many Facebook elements point to decades like the 60s and 70s when the correct punctuation is the 60s and 70s.
Contact Nils Rosdahl at [email protected]