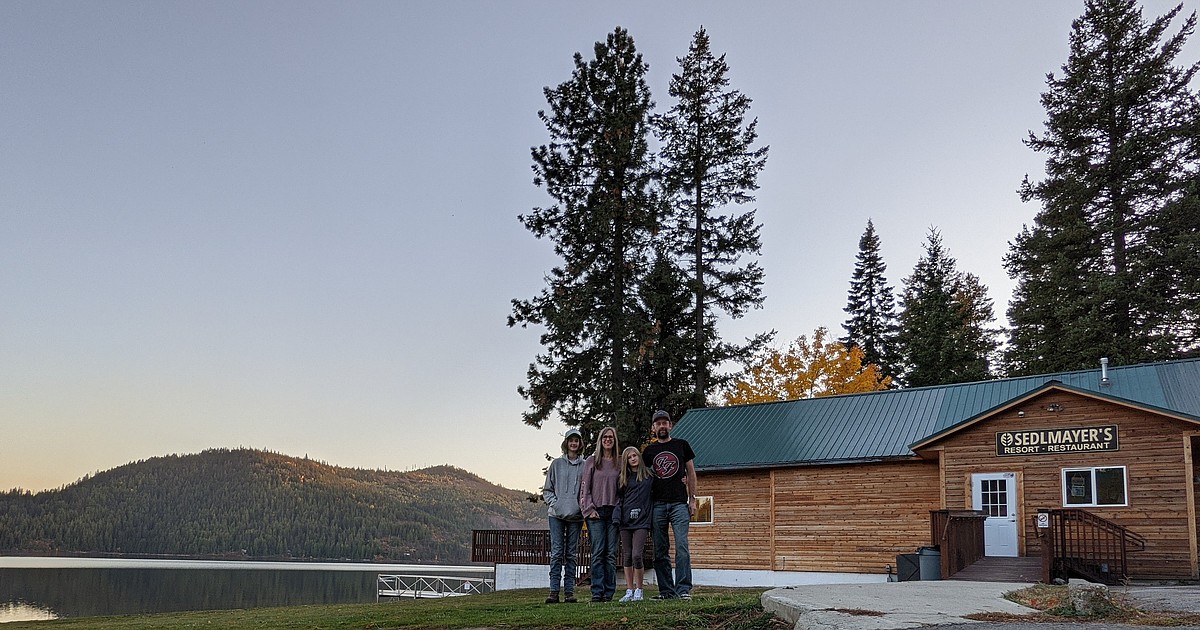 The new Sedlemayer's Resort and Restaurant at 7712 W. Spirit Lake Road offers waterfront dining with RV park and camping.
Embark or drive for steak, seafood, pasta, burgers, sandwiches and entrees to share, such as baked brie in puff pastry with homemade blueberry compote and signature cocktails with beers local pressure.
Seats are by the water, on the terrace, in full bar and bench style with historic decor. Different nights have different specialties, often combined with live music. Guest and party reservations are available.
Mandi and Collin Conway and their daughters Daisy and Zoe offer hours from 4 p.m. to 8 p.m. on Mondays, Thursdays and Fridays and from 11 a.m. to 8 p.m. on Saturdays and Sundays, with brunches on Sundays starting in November.
Call 208-819-4370. Visit sedlmayersresort.com.
Milk & Honey Coffee opens in Post Falls

With branded drinks and foods such as bagels, toast and pantries, the Mike & Honey Coffee drive-thru opened at 3165 E. Mullan (at the intersection of Cecil Road) in Post Falls .
The special now is a pumpkin bee. The hours are from 6 a.m. to 6 p.m. on weekdays and from 7 a.m. to 4 p.m. on Saturdays and Sundays. The coffee house also offers locally roasted organic espresso.
Grease Monkey begins building Athol

With several vehicle service options, Grease Monkey has started construction on their new building at 7001 E. Athol Crossings.
It will include a three-bay oil change, car maintenance, tires, brakes, a touchless car wash and vacuum cleaners. Hours will be 8 a.m. to 6 p.m. Monday to Saturday with owner Christian Watts.
Grease Monkey started in 1978 in Denver and has over 300 locations.
Now the Tidbits

Signs on Wayne Drive in Hayden read "Future home of Longwell & Trapp Architects and Blue Chip Chiropractic".
Northwest Specialty Hospital is expanding to 1551 E. Mullan Ave., Post Falls.
The Open Arms Real Choice Clinic will be moving from 1800 Lincoln Way to 8056 N. Wayne Drive in Hayden.
Metro Express Car Wash is building a large new location on the northwest corner of Highway 41 and I-90.
Lone Mountain Farms & Brewery will have a new place in the development of the Lancaster market at US 95 and Lancaster Road.
Consign Furniture has an "coming soon" sign southwest of the intersection between Highway 95 and Lancaster Road.
The Renew Aesthetics & IV Hydration Bar will be relocating from 515 Fourth St. to 1101 W. Ironwood Drive in January.
A Board & Brush place will be at the Prairie Mall.
Hmm. The "For Sale" sign disappeared in the northeast corner of Hanley and Ramsey and the surveyors were there. What is happening?
Black Lodge Brewing will soon open on Third Street downtown.
The Rebel Junk Shoppe at 2424 N. Fourth St. will be expanded to become a street side location.
The Bruchi Quick Service Restaurant is planned for a new building north of the corner of Highway 41 and Mullan Avenue.
The new Dairy Queen at 513 W. Hayden Ave. (just west of Highway 95) will open in November.
The old Ugly Fish restaurant building will be a Berkshire Hathaway Realty in Riverstone.
Watch for the construction of the Vantage Point Brewery across from Michael D's Eatery on Coeur d'Alene Lake Drive.
Golf Island and Pedego e-bikes arrive at Riverstone.
Kaffee Meister will be at 9212 Government Way.
A Sweet Lou's restaurant and a Grease Monkey car seat will be at Crossings in Athol.
Watch for the Rivers Edge Apartments to be built at 3528 W. Seltice Way.
The Gathered Restaurant is new on Spokane Street in Post Falls.
The Lucille building under construction at 2605 N. Fourth St. will have five commercial suites.
The TownPlace Suites by Marriott hotel will be built at the location of the Outback Steakhouse, at the southeast corner of I-90 and Northwest Boulevard.
Several steel storage buildings will be constructed at 3758 W. Hanley Ave., (excluding Atlas Road) for Hern Ironworks.
New locations coming to Silver Lake Mall include See's Candies, Nailed It, Customs Laser Engraving, All Fired Up, Crime Scene Entertainment, and American Heritage.
A Sarah Hamilton Face location will be at 2120 Northwest Blvd.
Watch for something entering the old ShopKo building … maybe Sportsman's & Ski Haus.
A new commercial and residential building will be constructed at Government Way and Davidson Ave.
Watch for major changes with the Burger Bunker and Bunker Bar on Spokane Street in Post Falls.
A new building for Linden Coffee Co. is under construction at 1502 N. Third St.
A new gas station will be located in the northeast corner of Atlas in Seltice.
We have rumors of a new Costco in Hayden and State Line and a Trader Joe's in Coeur d'Alene. We'll see.
A large storage complex and a new headquarters for Steel Structures of America are under construction next to Highway 41.
The Den will be a new tavern at 761 N. Idaho St. in Post Falls.
My Nails & Spa will be on Canfield Avenue.
The CD'A Corner Store adds kitchen and dining to the city center.
Takara restaurant will be in the city center.
Schmidty's Burgers will be located at 1524 E. Sherman Ave.
Napa Auto & Truck is building a new location in Rathdrum.
Coeur d'Alene Nissan will have a major addition to its building off the US 95.
Watch for a new apartment building at 128 W. Neider Ave. (opposite Safeway).
The Mountain Goat Lounge is under construction and is connected to the downtown Moose Lounge.
The Lake Coeur d'Alene Inn is under construction on Coeur d'Alene Lake Drive between Mullan Ave. and Michael D's Eatery.
Television meteorologists often say "further" when they mean "further", and they incorrectly say the words "… ward" with an "s". Note that the punctuation goes before the quotation marks. The indices of the TV show "Jeopardy" still have this problem for millions of viewers.
Contact Nils Rosdahl at [email protected]
---
---
Some of the Northwest's most interesting landscape rock features originate from the Columbia Basin.
Called columnar basalts, these were formed by the cooling of magma that extruded from the earth's core long before the Second Ice Age and the Missoula floods.
Last week I mistakenly wrote that the rocks came from sandstone from Glacier Missoula Lake which had hardened into hexagonal rocks (six sides). Several readers have corrected me, including Dwight McCain, Kathy Marcus and Dave Brown.
As McCain explained, the name "basalt" should be a clue. It is an igneous rock that originated from lava that covered large areas of the Columbia Basin in many different flows. As the hot magma gradually cools, it condenses into hexagonal-shaped columns perpendicular to the flow. Larger columns generally indicate slower cooling.
Places in Washington where they are visible include the Columbia River Gorge at Vantage, Highway 28 south of Wenatchee, Moses Coulee, Grand Coulee, and Spokane Falls.
As a landscaping specialty, the most obvious are on the way to Spokane Airport. Locally, the little ones are along the Higgens Point Trail at the end of the Coeur d'Alene Lake Road.