Pearl's Place Day Spa Aims To Keep Guests As Beautiful As Famous Madame Cripple Creek | Pikes Peak Courier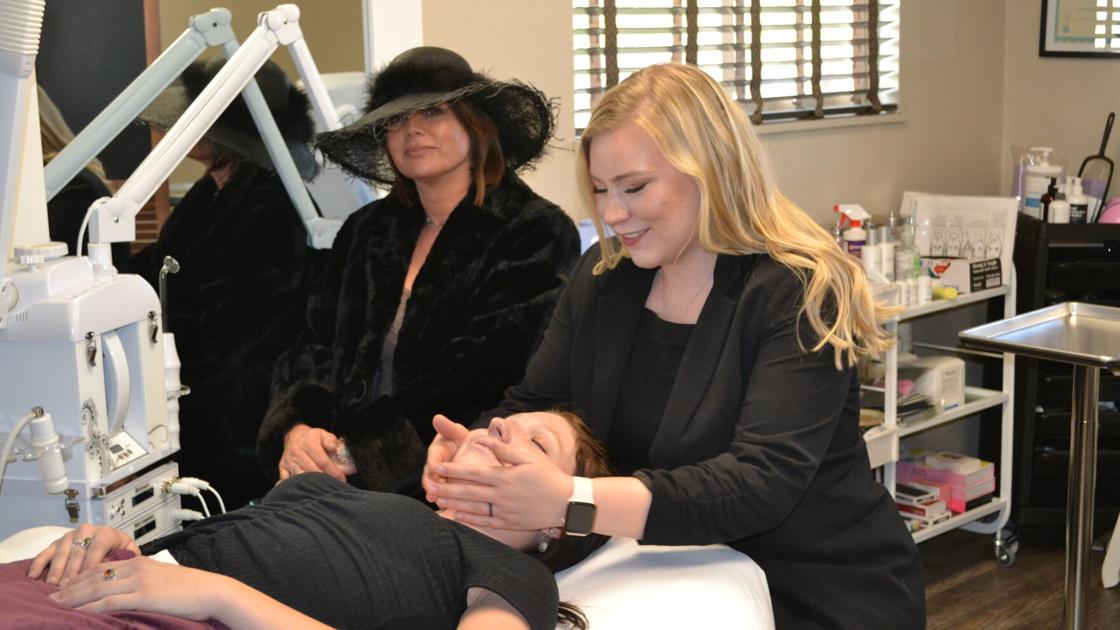 "You feel great when you walk in, but even better when you leave," describes the sentiment of guests at the new Pearl's Place Day Spa in Cripple Creek.
The spa is named after Pearl de Vere, the infamous prostitute and madam of Cripple Creek. Shortly after Bob Womack found gold in 1890, Cripple Creek sprang up overnight and all kinds of people came looking for their fortunes. De Vere arrived in Cripple Creek around 1893 and began working as a prostitute. Within months, the "Tainted Dove" of Cripple Creek had her own brothel and several girls in her service. She looked after the most prosperous men in Cripple Creek, and her brothel, The Old Homestead, quickly became the most prosperous in town.
She was well known for wearing lavish clothes in public and never to be seen twice in the same clothes.
De Vere died on June 5, 1897, and the townspeople gave her a lavish funeral paid for by many contributors. She was buried in the Mount Pisgah cemetery with a wooden marker which was later replaced with a marble stone.
"Although our spa is named after the infamous Pearl de Vere, we do not offer the same type of service that it did at the time," said Laura Smith, owner of Pearl's Place. "Instead, we are honored to continue her legacy of helping women look and feel exquisite."
She added, "We offer beauty services that include a full-service hair salon, luxury manicure services, collagen-inducing red light tan and skin beautification services that reduce hair loss. time."
Smith grew up in California, but after a visit to her sister in Teller County, she moved to Florissant within two months. She married Robert Smith in 2013 and they opened Cripple Creek Automotive Tire and Towing. Later they added Smitty's used car and truck sales. Laura started selling Mary Kay cosmetics and after about a year became very passionate about skin care and studied to become a licensed esthetician, someone specializing in skin beautification.
Smith met Hannah Dollahite while attending beauty school, where Smith describes her as a "rock star." Smith enlisted the licensed esthetician to help serve clients and assist in the day-to-day operation of the spa. Dollahite is originally from Canby, Oregon, and lives with her husband, who is stationed at Fort Carson.
Another employee is Mariah Frey, who was a friend of Smith's daughter-in-law, Audrey, who grew up. Frey was reintroduced to Smith after Audrey informed her that Frey graduated in 2017 from Paul Mitchell's Aesthetics program. Once they reconnected, Smith knew Frey would be a perfect addition to the team.
Heidi Kessler, owner of Salon Hair Studio in Woodland Park for nine years, joined the team to help Smith get the spa up and running.
The first phase of the spa has been completed and includes two heated beds in the skin care room and a full-service hair styling area that can accommodate four clients. Phase two is underway and will include two private massage rooms and pedicure and manicure stations. Phase two is expected to be completed by December 1.
Smith said she trusted the people she brought together, but could use another licensed nail technician and barber to complete her team.
Smith's motto for his business, as found on his website, pearlsplacedayspa.com, "If you want to relax, unwind, pamper yourself, look and feel amazing, come and find out for yourself. – even the spirit of Pearl de Vere. "