The 1987 Honda Accord LXi is still a delight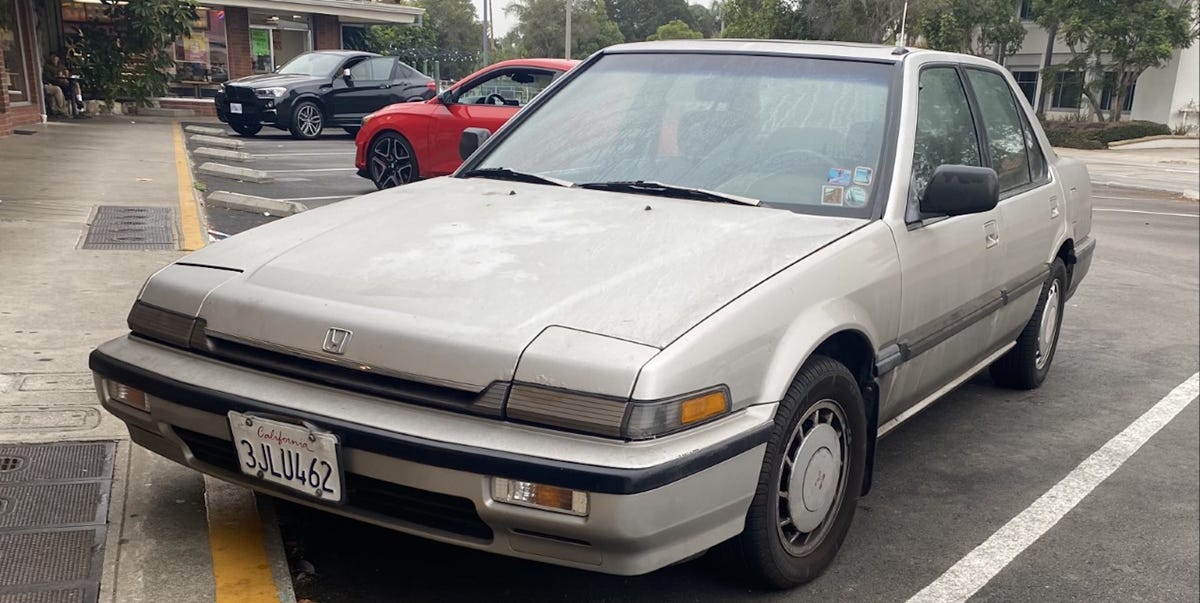 There is too much nostalgia for the terrible cars of the 1980s and 1990s. And not enough recognition of the truly superior vehicles of the time. With that in mind, here's a 1987 Honda Accord LXi sedan spotted near the legendary Tee-Off bar and grill in Santa Barbara, California.
The third generation of the Accord went on sale as a 1986 model and stood out in several ways. It was the only Accord generation to use hidden headlights, the first to feature a 2.0-liter four-cylinder engine (actually 1955 cc) and the first to feature electronic fuel injection. fuel on some models. But the best-known technical innovation has been the adoption of a true double-wishbone front suspension in place of the MacPherson struts used on previous Accords (and virtually all of the Accord's direct competitors).
Honda first used the double wishbone design on the 1983 Prelude Coupe and the suspension design allowed for lower hood height and fender height than before. This gave the Prelude a distinctive look that continued into the Accord three years later. For many, the low Honda hood has become the defining feature of what many consider Honda's best years of design.
Even the 86 and 87 injected LXi only had 110 horsepower, but they were greedy horses. And the Accord's handling was clearly superior not only to direct rivals like the Toyota Camry, but also much more expensive cars like the Mercedes 190E. The five-speed manual transmission shifted smoothly, the steering was an eye-opener, and the interior was modestly decorated and logically useful.
Honda began manufacturing Accords at its plant in Marysville, Ohio, in 1982 and with the introduction of the third-generation Accord, the company subtly revised the car to better meet American expectations. This became more evident when a two-door coupe was added to the Accord lineup for 1988. Produced only at the Marysville plant and exported to Japan, it was also widely designed in the United States.
The third-generation Accord remained in production until the 1989 model year, with a new luxury version "SEi". When the 1990 Fourth Generation Accord appeared, it was even larger and better suited to American tastes – and quite different from the Accords sold in most other countries around the world.
As I was photographing this example under the "Magic Nails & Spa" sign, the owner approached me and asked me why I was photographing him. "It's pretty rare to see one these days," I said. "Truly?" he has answered. "Yes, and I work for Road & Track. So it's work. "
"Good for you," he said, turning around in the tee-off.
This content is created and maintained by a third party, and imported to this page to help users provide their email addresses. You may be able to find more information about this and other similar content on piano.io