This couple's saving marriage was an intimate backyard story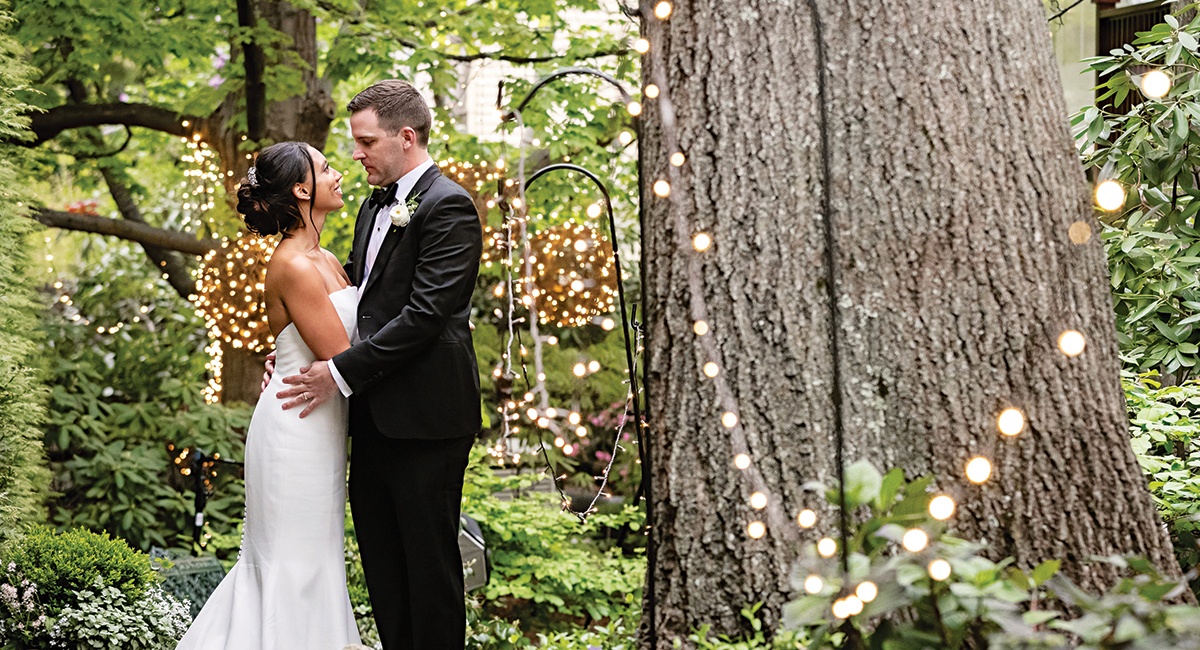 News
After the pandemic disrupts their initial plans, the bride and groom find a perfectly personal setting in which to get married.
---
THE STORY
Lauren Henderson and Coilin Deakin's Napa Valley Wine Tour hit every hook in the book. It was first the escaped hotel reservations, followed by torrential rains that soaked the vineyard lands where Coilin planned to offer. "Then when we got to the third or fourth winery of the day, the sun came out," Lauren says. After their tasting, Coilin implemented his plan to ask the question, waiting for Lauren in front of the vines. "She hardly wanted to walk on the grass," he recalls. "I was wearing suede shoes! Lauren adds, laughing. Fortunately, Bobine convinced her. Then he knelt down.
Since then, the couple have made a habit of reversing the bad luck. The first plan for their wedding? A 200-person grand gala at the Boston Harbor Hotel, which COVID derailed. Twice. "Anything that could go wrong has gone wrong," Lauren says. "But it ended up being perfect." In May 2021, nearly eight months after their original wedding date, the couple said their vows on the porch of Trinity Church (the church where Lauren's parents were married) and then held their reception – with only a few dozen guests – to Lauren's childhood. house in Newton. "For years, Lauren's dad always joked, 'Wouldn't it be nice to get married in the backyard? "", explains Bobine. "So that's exactly what happened."
The couple's backup plan called for a decidedly more personal celebration. Under enchanting tea lights in an elegant outdoor tent, surrounded by majestic trees, guests gathered around a U-shaped table to enjoy live jazz and a personalized menu with chords drawn from the wine cellar of the father of the bride. "We wanted it to be more of an experience than just a sit-down dinner," Lauren says. "It was very intimate, just our closest family and friends," adds Bobine. "It was like no other wedding [we'd] never been to.
THE DETAILS
A bouquet of white peonies and roses completed the timeless elegance of Lauren's Vera Wang dress.
After getting ready at the Fairmont Copley Plaza, Lauren and her parents attended the ceremony at Trinity Church.
Lauren and Coilin were the first couple to marry on the steps of the historic church. The public ceremony meant anyone could stop and watch, including passers-by from the Copley Square Farmers Market.
A heated tent in Lauren's childhood yard provided an intimate reception venue. "[We had] the ability to have a conversation with almost anyone, "Bobine recalls.
Lauren and Coilin opted for a golden buttercream cake, accompanied by mini desserts like chocolate mousse and cookies.
Lauren has put together a candy bar filled with sour candy and chocolate. "It was one of the things I wanted the most," she says.
The couple of gourmets collaborated with their caterer on a personalized menu including a risotto with spring peas and filet mignon. "Someone from the team came to present each class," Lauren says.
THE FILE
Wedding dress Vera wang
Cake Party favors
Caterer William Ference caterer
Flowers House of flowers
The groom's tuxedo Canali, ARI Boston
Hairdressing / Make-up Sparkling beauty
Lighting Ryan Drawings
Planner Jillian Howell Events
Plants Perennial classics
Rentals State-of-the-art event services
Bathroom Sperry Marion tents
Transport Limousine black tie
Videographer City Movies
To marry? Start and end your wedding planning journey with Boston Weddings' guide to the best wedding vendors in town.