What's on the menu at the new Maxine's Cafe & Bar in the West End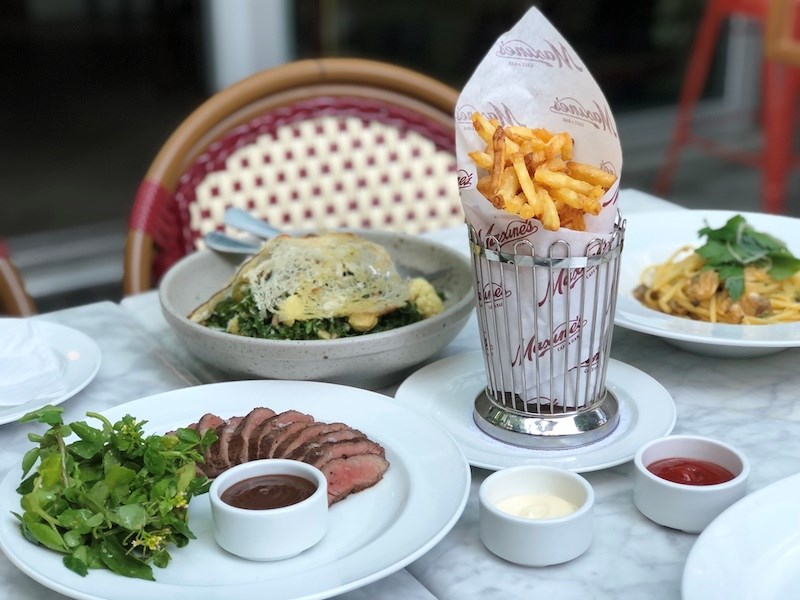 Coffee, brunch or hamburger during the day, charming bistro atmosphere and lovely food and drink in the evening.
Every neighborhood needs a must-see place to grab a bite to eat, meet a friend, or relax on a sunny patio. For those in that fast-moving area at the north end of the Burrard Bridge between Yaletown and the West End, their new local hangar opened this spring, and it's a European-style restaurant open all day. called Maxine's Cafe & Bar.
Maxine's – a brother of his downtown colleagues Tableau Bar Bistro and Homer St. Cafe and Bar – has taken over the space that previously housed the bike and Italian-style cafe Musette. Musette managed to escape the perils of the then-looming COVID-19 pandemic when the cafe and casual restaurants closed for good in February 2020.
Fast forward a year later and Maxine's was in the works, renovating the light-filled ground floor space to give it a Paris-by-way-New-York feel, with decorative touches honoring women – the latter inspired by Maxine, the alley and the transverse street of the bistro, named after Maxine MacGilvray. As part of the West End project to name the streets after the women who have had an impact on the neighborhood, Maxine Lane pays tribute to chemist and business owner MacGilvray, who had a cosmetics line and ran a school beauty salon in Bidwell.
Maxine's also honors the European approach to the neighborhood seal, which has seen increasing appeal in Vancouver in recent years. It's an aesthetic place to grab a morning coffee – or grab one to go – that smoothly transforms into a place where you can sit down for a high-quality lunch, enjoy a good happy hour, or you settle in for dinner.
However, the day is split into three segments at Maxine's, starting with brunch, which runs daily from 8 a.m. to 3 p.m. and features breakfast dishes – young and old, including their much-loved Dutch Baby. , a sizzling puffed pancake in a cast iron skillet – as well as lunch options like salads, a burger, sandwiches, and larger platters.
Happy Hour runs from 3 p.m. to 5:30 p.m. and includes house wines for $ 6 and $ 5 highballs, with things like the burger, oysters, their awesome golden fries, and a few other selections on the food side, and several drinks on the cocktail side.
Maxine's dinner menu starts at 5 p.m. and features Franco-Italian influences with lots of Pacific Northwest sensibilities. Catch some serious bistro vibe with their velvety tenderloin steak and a tall cup of homemade fries (aka fries) with your choice of mayo or ketchup (or both!) For dipping. Silent slices of tuna are topped with marinated fennel, jalapeño shards, brackish olives and creamy avocado in the crudo starter.
A robust kale salad with Brussels sprouts and cauliflower echoes a classic Caesar with its crusty crusty bread crouton and creamy garlic and hazelnut Parmesan dressing. The toasted sourdough gets a nice schmear of tonnato (tuna) sauce before being garnished with white anchovies and capers Рa nice foil for a glass of crunchy and fruity French ros̩, which cuts through its richness and salt.
While they do offer some very typical British Columbia dishes like classic roast chicken, wild salmon with a potato salad (another place where that tonnato sauce comes in) and mussels with fries, they also cook pasta dishes, like an addicting plate of Linguine alle Vongole. It's a simple dish, which Chef Booby Milheron chooses to present with the plump clams stripped of their shells; it's beautifully done, with a touch of Calabrian pepper.
If you can, save room for dessert. Maxine's serves a decadent eclair coated in thick dark chocolate with hazelnuts and filled with a dulce de leche cream. The same logic of your aperitifs applies: pair this luxury treat with a few bubbles from the wine list to cut a nice line in all that glorious sugar.
Maxine's is located at 1325 Burrard Street and offers on-site dining, both indoors and on their 24-seat patio Thursday through Sunday, with COVID-19 security protocols in place that currently include dividers between tables and masks for staff and guests. Take-out and delivery are also available.