Wing maintains convenient city hall in Frisco ahead of delivery drone launch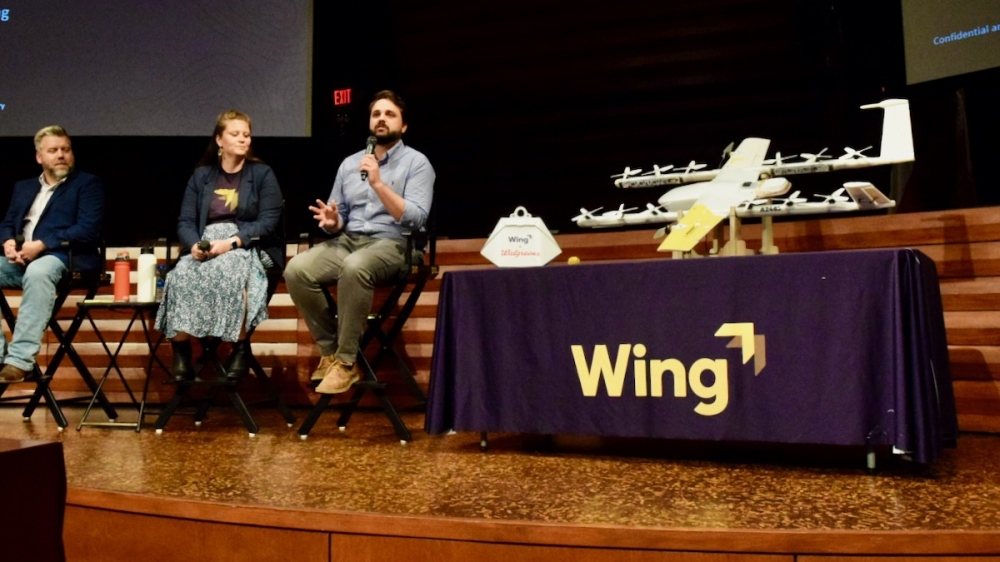 Employees of the drone-based delivery company Wing held a town hall on October 28 on the upcoming drone delivery service in partnership with Walgreens. (Matt Payne / Community Impact Journal)
The Wing drone delivery company is working to give Frisco residents more details and answer their questions before launching the region's first retail airlift delivery service.
The subsidiary of Google's parent company, Alphabet, held a town hall on October 28 at the George A. Purefoy Civic Center. More details were shared on Wing's delivery drones about a week after the company announced its entry into Frisco, and questions have been asked by residents in the area. No start of service date has been announced.
Styrofoam drones airlifted by 12 propellers each will soon deliver around 100 different over-the-counter items, from Walgreens to single-family homes in Frisco and Little Elm. A fleet of six drones will "nest" in a Walgreens in the West Frisco area on Eldorado Parkway, according to Jacob Demmitt, the wing's director of marketing and communications.
Some residents of Frisco and Little Elm will be able to download the Wing app from Apple's App Store and Google Play Store, Demmitt said. Walgreens employees in the Frisco area will load non-prescription drugs, food, toys and more onto the drones. Delivery units will sail approximately 150 feet above the ground at a speed of approximately 65 miles per hour, generating "conversation equivalent" noise.
"What we're doing in the Dallas-Fort Worth area is the very first truly store-to-door drone delivery service," said Demmitt.
Wing is also partnering with Hillwood to prepare for a separate drone delivery facility in the mixed-use development of the Frisco station. For now, the second installation is focused on exploring new use cases and hosting community demos.
Questions asked both via Facebook Live stream and in person focused on the safety, efficiency and expansion plans of drone services. Residents wanted to learn more about "failsafes" to prevent drones from crashing into people, buildings and cars.
Demmitt said Wing's flight planning software can detect the locations of obstacles and bypass them. In addition, Wing's chief flight operations officer Mark Blanks said the low-resolution cameras unable to capture high-quality images of individuals are a backup of Wing's GPS software.
The drones also weigh less than 10 pounds, Blanks said, and are designed to shatter on impact to minimize the risk of injury.
"The plane is really designed so that if such a situation arose it would not seriously injure a person," he said. "It's basically a bicycle helmet that flies."
Winds of up to 50 mph seen around DFW on October 28 were discussed at town hall, which raised questions about the resilience of drones in harsh weather conditions.
Blanks said drones can handle "very strong" conditions, but described a very cautious approach. A team of pilots will oversee the weather forecast and determine whether to temporarily suspend orders.
"If the weather is really bad, for now, don't plan on having us operated on," Blanks said. "But we expect a future where we can operate under all of these conditions. "
Drone delivery will be free at the start of the service, according to Kendal Prosack, head of local policy and community affairs. Prosack said the drones will require a picnic-sized blanket space of about 6 feet by 6 feet to naturally unload recyclable packaging up to 3 pounds by gravity.
Wing has developed seven iterations of its final delivery drone design, Demmitt said. Since starting up in 2012 and honing their technology, the team said they have used their drones to help Girl Scouts increase cookie sales, rent library books during a pandemic, and help older people get by. procure everyday items.
"It's really us who grow up, if you will," Prosack said. "We started to crawl, now to walk and I hope we will run soon."
The city of Frisco will once again host Wing in a Coffee with the Mayor from 8 a.m. to 9 a.m. on November 12 at the municipal center.
Prosack encouraged residents to email Wing with future supplier and service inquiries. Visit https://wing.com/dfw for more information, and emails can be sent to the team at [email protected]